The Biggest Little Scumbag in the Game
June 27th, 2007 | by: Carter Daly |

View Comments
I hate Lionel Messi with a fiery passion that haunts my soul at night.
It's true.
Many say he is the next big thing, the next Maradonut, and that is only where his problems begin. First off there is nothing big about Messi at all. His height (5′7″) at this stage in his life legally qualifies him for all of the benefits of a garden gnome. He seems to take this stuff awfully serious too. He looks at the pillar of health that Maradona is as his role model and idol. Now I know sometimes it is hard to find good role models, but you gotta do better than that pal. Today hand ball goals, tomorrow, a cocaine induced heart attack.

("When I grow up, I want to be a washed up cocaine burnout just like you!")
It started with an ok goal against Getafe in the cup, but then, as I knew it would, lead to more serious issues. Case and point the disturbing disgrace (kind of like Messi himself) of the handball goal on the most pivotal day in La Liga. At one point it looked like that "little cheater" as the Gol TV announcer referred to him (I prefer shrimpy diving dirtball) would have won the title.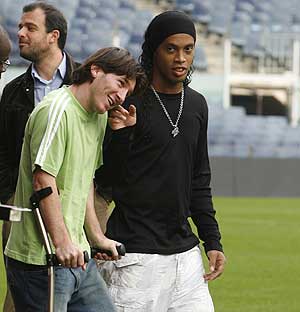 (Ronaldihno – "Get this nancy boy away from me!")
Or how about his swan dive against Chelsea in the champion's league that would make Greg Louganis smile. Wasn't that great? No. I have never seen a "great player" use the tactic of "Oh I will leave my feet like the ballerina reject that I am, than proceed to jump into the defender, while of course looking very brave in the fetal position, then I continue the presentation with the dramatic fall of a guy who was just took six bullets to the frontal lobe. After I have caused myself and my family this great embarrassment, I will cap it off by slowly rolling to the touch line with my face covered so they can't see me laughing until I almost take out the legs of the refs assistant, this way he will know that I really got 'hurt' this time".

(Clearly still acting. Why must he take it so far?)
By the way that is a direct quote from Messi after the incident. I think those files were destroyed though as to protect the source. The special one Jose Mourhino put it best when he said, "Barcelona is a cultural city with many great theatres and this boy has learned very well. He's learned play-acting."
Why do I bring all of this up you ask? Well none other than Bob's boys will be taking on this tiny Tinkerbelle in the first game of the Copa America, and I want to send a direct message to those that wear the stars and stripes…
Take his tiny ass out. He'll get most of the going down part done himself, but get a good lick in. That means you Rico.
Subscribe

USA World Cup Team Blog RSS Feed

Share
blog comments powered by Disqus