Kids Get the Job Done vs Guatemala
November 20th, 2008 | by: Carter Daly |

View Comments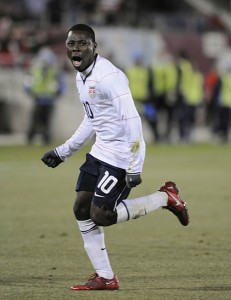 Against a Guatemala side with something to play for, you have to admit, that was an incredibly dominate performance for a bunch of kids and MLS players.
The fans got everything they could have wanted. A starting lineup including Cooper, Freddy, and Jozy provided to be the catalyst to what resembled an Arsenal style attack with much help from Sacha Kljestean in the midfield.
Can't say anyone had a really poor performance, even Jonathan Bornstein seemed to iron out the kinks after blowing some early attacking opportunities.
Things we learned last night:
-We are deeper than we think.
-Bob Bradley's stock is looking pretty high right now.
-Depending on what you see Landycakes and Dempsey as, FrankenCooper may be second on the forward depth chart.
-Training everyday with Villarreal will improve your touch in only 60-90 days.
-Brad Guzan has the ability to do absolutely nothing for 90 minutes and not fall asleep.
-Regardless of how much pine he rides, Freddy Adu is an absolute beast for the national team. Is he our Lukas Podolski? More on that later…
Highlights:
Drop your lines in the comment section…
Subscribe

USA World Cup Team Blog RSS Feed

Share
blog comments powered by Disqus