USA vs. Costa Rica (1 – 3) Post-Game Thoughts
June 4th, 2009 | by: Marlon |

View Comments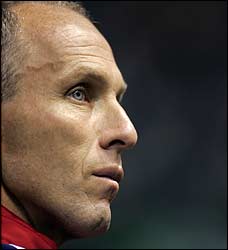 There's too much to say about last night's game. The USA were thoroughly outplayed and out coached. I could name every single player who took the field for the US and list a host of things they did wrong. Instead, because I don't have that kind of fortitude, here is a short list of my concerns and thoughts from last night.
- DaMarcus Beasley is officially not a leftback and his career as a first choice player for the USMNT could and probably should be coming to a close. I've criticized Bradley playing Beasley at leftback since day one, and while he showed flashes of why he can't play that position in other games his display against Costa Rica should be what keeps him off the pitch. He was out of position all night, and when he got forward he brought nothing to the attack. DaMarcus has been a very good player for us, but I think it's time to consider other options. At this point I'd rather see Heath Pearce on the left.
- On the other side of the field, Marvel Wynne proved he is not the rightback the team has been looking for. A lot of arms are being thrown up wondering why Jonathan Spector of West Ham United was not used, and it's fair to say he could have done a better job then Wynne last night. Wynne's inexperience showed: he was so out of position on the second goal I can only wonder what he was thinking about. Beasley has the defense of being played out of position. Wynne does not. It could and should be a long time before we see him on the field for the USA again.
- There are a lot of players to be faulted for the first goal, but Pablo Mastroeni (who was probably only on the pitch for the sake of being a "veteran who doesn't make many mistakes") was absolutely undressed. The strong footed and rightly placed and timed tackle he likely meant to put in could have saved the night, but the bumbling trip he ended up with was the beginning to a long horrid night.
- Bob Bradley is proving he is no tactician. I've been critical of his lack of invention before, and before now there hasn't been much room to complain about Bob. However, he did a horrible job last night. He did not prepare the team sufficiently. He did not send out the right players. He did not make the right in game adjustments. He did not look like a man who should be managing a national team at any level. If the USA wants to accomplish something in 2010 I don't think it can be done under Bradley.
Subscribe

USA World Cup Team Blog RSS Feed

Share
blog comments powered by Disqus