And now, a Tweet from Freddy Adu…
September 22nd, 2009 | by: Brooks Peck |

View Comments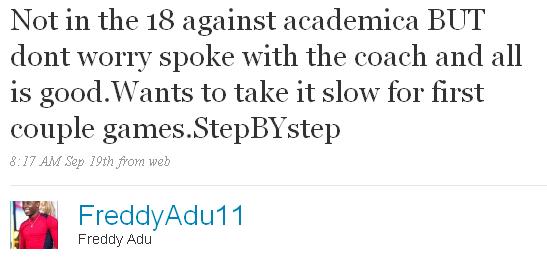 Is Freddy being told the truth or is he already falling into the same trap he did with Benfica and Monaco?
To be perfectly honest, if I were him I would probably be buying a gun right now.
UPDATE: Freddy actually got some playing time, making his debut for Belenenses as a sub in a league cup match. From Tribal:
The 20-year old, who is on loan from Benfica, was subbed on in the 64th minute but was unable to influence his team to a win as they went down 1-0 to Rio Ave in the Group E clash.

Adu performed well on the left of midfield, creating chances for teammates and showing Belenenses manager Joao Carlos Pereira what he is capable of.
Well, that's a step.
Subscribe

USA World Cup Team Blog RSS Feed

Share
blog comments powered by Disqus