Freddy Adu tweets the truth
May 18th, 2009 | by: Brooks Peck |

View Comments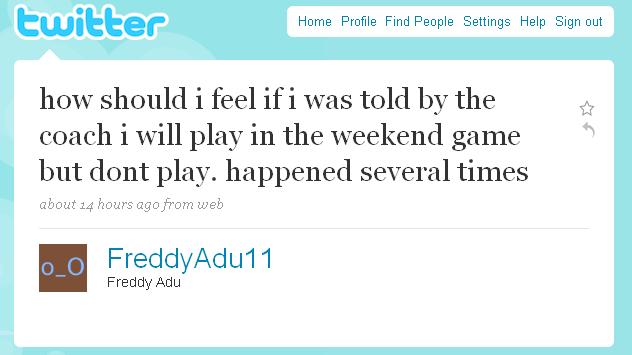 No doubt about it, this has been a frustrating season for both Freddy Adu and all US soccer fans attempting to collectively will him to great success. Monaco took him on a loan deal for seemingly no reason other than to keep their bench warm (he has only been a substitute in nine Ligue 1 games) and every official word from Freddy was upbeat and highlighting the positives of working with the coaches and enjoying his surroundings.
But with newly created "FreddyAdu11" Twitter account, it appears Freddy — if it really is, in fact, The Adu himself — is leaking the honest truth 140 characters at a time (in addition to questioning whether he should date Lindsey Lohan and getting hyped over Eminem's new album).
Adu was available for Monaco's game against Valenciennes on Saturday and did go unused as the match ended in a 1-1 draw with his team using only two of their substitutions, so the tweet above does make realistic sense — even if the club's decision behind it doesn't.
Assuming this is the real deal, it seems Freddy is tired of the games — and lack thereof — Monaco has played with him this year. Seems he's ready for a new club that will Respect The Adu.
Subscribe

USA World Cup Team Blog RSS Feed

Share
blog comments powered by Disqus