U-23's Scorless Draw With China
December 13th, 2007 | by: Carter Daly |

Comments Off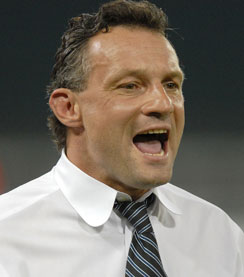 That's not the performance anybody was looking for.
What was supposed to be a thrashing and goal scoring exhibition put on by the USA U-23's under the guidance of new head coach Peter Nowak turned into a dull and disappointing scoreless draw with their Chinese counterparts in the first of a two-set of friendly matches in the far east.
Check your official match report here.
This was not the debut Peter Nowak was looking for. A few players had a decent showing, but it's hard to say anyone looked awesome when the squad comes up empty. Overall a very stale match.
In case you were wondering, Dax McCarty was your Sierra Mist Man of the Match. Is that supposed to be impressive?
Didn't think so.
The US will conclude their two match friendly-set on Sunday, when they once again face China, this time in Guangzhou.
Let's hope they put a few in for not only themselves but so I can have something to write about.
If you caught the match any thoughts on the performance?
Subscribe

USA World Cup Team Blog RSS Feed

Share
Comments are closed