FIRE BOB BRADLEY
June 6th, 2009 | by: Brooks Peck |

View Comments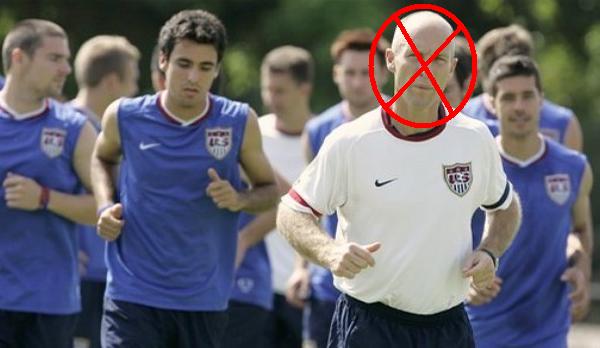 The US beat Honduras 2-1, but the only role Bob Bradley played in that victory was as a handicap.
When the US lost to Costa Rica on Wednesday in part because of Bob Bradley poor tactics, in part because of poor preparation, and in part because Costa Rica were simply the better team that night, I thought the anti-Bradley backlash was a bit too much too quick. Now? Not so much.
To start Mastroeni after his horrible HORRIBLE display on Wednesday. To start Ricardo Clark — a second defensive midfielder. To start Conor Casey, who has clearly proven by now that he should not be starting World Cup Qualifiers, over Charlie Davies, who was clearly the man of the match for the US on Wednesday in the few minutes he played as a sub. To not play Torres at all after he was our best player on the pitch in the first half (the only half he played for reasons I still can't fathom) on Wednesday. To not even have Freddy Adu active. To come off that atrocious display in Costa Rica and allow a goal in the first five minutes at home. All of these things, regardless of the final score, add up to incompetence on the part of Bob Bradley. The level of incompetence that requires he be relieved of his duties.
Again, regardless of the final score, regardless of their likelihood of qualification, this team clearly isn't at its full potential and that is largely due to the fact that they're not being set up to be. Even before they go out on the pitch, they're being handicapped by poor tactics and the exclusion of players vital to reaching that attainable level of potential.
And to those who say "but we won, where do you get off complaining?" I say that that's a testament to how talented our talented players are and the fact that we play in CONCACAF. Think of the World Cup.
Alright, I said my piece. Marlon will post a full review of the Honduras match later.
Subscribe

USA World Cup Team Blog RSS Feed

Share
blog comments powered by Disqus