Miss USA and Miss Honduras Present: Brooks' Half-Assed World Cup Qualifier Preview
June 5th, 2009 | by: Brooks Peck |

View Comments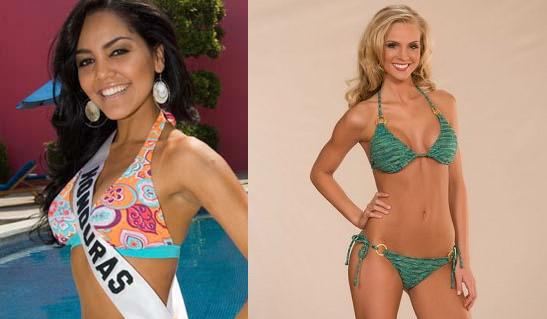 Alright, Marlon already gave his thoughts on that crapfest in Costa Rica, so here's mine:
Moving on…this Saturday night matchup against Honduras shouldn't be nearly as soul crushing. First of all, the game is in Chicago, so the US MNT won't be scared to death by the riotous locals. Secondly, this game isn't against Costa Rica — a team which, as we've all been reminded, has owned us in WCQs over the years.
But before we delve too deep into this match, let's take a look at some fun (and this time 100% true!) facts about Honduras:
-Honduras means "depths" in Spanish.
-Gained independence from Spain in 1821.
-Its capital, Tegucigalpa is one of my most favorite words to say. Tegucigalpa! Tegucigalpa!
-They have a holiday called "Children's Day" which is basically like a second Christmas, plus their Independence Day is celebrated with cheerleaders (I now regret not growing up in Honduras).
-80% of their population lives in poverty (nevermind).
As for the match, the US will be without Michael Bradley, which was booked for the second time on Wednesday. Brian Ching will also be out due to injury and will be replaced on the roster by…Conor Casey (damnit, Bob). Also, most devastatingly, Maurice Edu will miss the entire summer after undergoing knee surgery.
Honduras is coming off a 3-1 win at home against Mexico and a 1-1 draw at Trinidad & Tobago before that. Their squad features some very talented and internationally known players like Tottenham midfielder Wilson Palacios, Wigan's Maynor Figuero, Roger Espinoza and captain Amado Guevara, and co-scoring leaders Carlo Costly of Birmingham, Ramon Nunez of Puebla, and David Suazo of Inter Milan (three goals each). Suazo will not be available due to injury, though.
The US is 2-1-1 against Honduras in WCQs, with the one loss coming in DC, and 7-2-3 all-time.
I'm not going to make any predictions, but I will say that if the US don't look infinitely better than they did a few days ago I'm going to make the angry kid in the video above look like a very sane and stable individual.
Subscribe

USA World Cup Team Blog RSS Feed

Share
blog comments powered by Disqus