The USA World Cup Blog Podcast – Episode 1: Whole Lotta Bob Bradley…
February 12th, 2010 | by: Taylor |

View Comments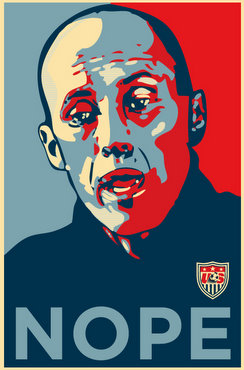 In the first World Cup of what will hopefully be a weekly-ish podcast, the boys (Daryl, Taylor, Albert, and Josh) discuss a plethora of US National Team topics including: the captaincy, the preferred style of play, the potential bright spots, and why Brian McBride's Robot Corpse deserves a spot over Brian Ching.
Plus, a semi-heated debate erupts regarding the merits of Bob Bradley. Is he the ideal coaching candidate? Can the USA win with him? And will Albert's head explode from even suggesting either of those two questions?
Hopefully, we'll have the feed available on iTunes in the near future, but for now you can just click the big "play" button below or go here to download it from the host site. Give it a listen and let us know what you think.
Final Point: I suppose I should have done this at the beginning of the post, but my name is Taylor and, in addition to the podcast, I'll be contributing semi-regularly here on the USA World Cup Blog. Some of you may know me from the Manchester United page and some of you may be slightly familiar with me from the other weekly podcast I do with Daryl. I'm really looking forward to being a part of this blog, especially since it allows me to argue about all things USMNT for the next five/six months. Looking forward to your comments! Cheers!
- You can download the mp3 here and you can find more USA World Cup Blog podcasts here.
Subscribe

USA World Cup Team Blog RSS Feed

Share
blog comments powered by Disqus