Under the Radar: Eric Lichaj Update
November 30th, 2008 | by: Carter Daly |

View Comments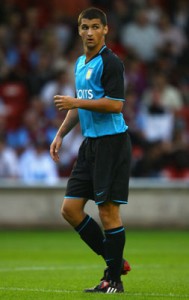 I'll have the full Yanks Abroad weekend recap coming tomorrow, but just before you lay your head to rest, here is a little update on a somewhat unknown Yank Abroad, Eric Lichaj. Great work to Ravi Ubha at Soccernet for this one.
The name may sound familiar. Eric Lichaj. No I don't even know how to pronounce it either. But I do distinctly recall when, seemingly out of nowhere, Premier League side Aston Villa signed him about a year ago straight out of the University of North Carolina.
A strong and smart center-half, Lichaj's career abroad got off to a slow start due to a small array of injuries, but just now is Eric starting to come into his own in the Villa system under manager Martin O'Neill.
Lichaj has been a regular for the Villa reserves this year, traditionally one of the best and deepest reserve sides in England, and has impressed everyone in the process. Having just turned 20 years old, Lichaj is already looking like he could see some first team action in the future for what is a mightily impressive Aston Villa side this year.
While still very young, Lichaj is undoubtedly somewhere on Bob Bradley's radar, and while he may not be in the running for 2010 simply because of depth, he could turn out to be a special player for the USA in the future. He is definitely one to keep an eye on.
Anybody have anything else on this seemingly under the radar defender? Think he has a chance for the USA in the future? How about Villa?
[Source: Soccernet]
Subscribe

USA World Cup Team Blog RSS Feed

Share
blog comments powered by Disqus