USA Roster – The U-23's
July 17th, 2008 | by: Carter Daly |

View Comments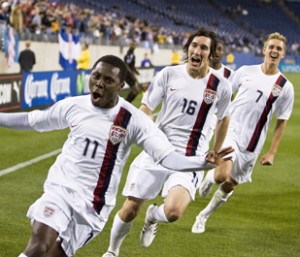 Now let's take a look at the rest of the squad assembled by Peter Nowak…
Chris Seitz (GK) – Seitz is a very talented young keeper. This pick amounts to gaining experience for a kid who figures to be the next in the line of great USA keepers. Doesn't start in MLS, so his pick was a logical one by Nowak.
————–

Patrick Ianni (D) – The defense is a thin spot for the U-23's, but Ianni is serviceable and pretty versatile. Not an experienced international player will be interesting to see how he reacts to the challenge. With the numbers, everyone is going to play some kind of roll.
Michael Orozco (D) – The Mexican-American who impressed greatly in qualifying. Looks set to be a pillar of Nowak's D. Pretty smooth on the ball and a fairly tough kid. Definitely his chance to stake a claim for call up's to full men's camps in the future. An intriguing prospect to say the least.
Nathan Sturgis (D) – Once again, a very versatile defender. Played on Rongen's U-20 World Cup team a couple years ago. Can play in the deep lying midfield as well as in the backline. Supremely talented. Was rumored to be a target of some European clubs but remains stateside for now.
Marvell Wynn (D) – Gotta be one of the fastest guys in the entire TOURNAMENT. Could fare well in the 100m sprint competition, but alas, he is a soccer player. His speed makes up for the handful of mistakes he makes a game. It's all there for Wynn; he just needs to put it together. I think he's getting there. His play for TFC has been pretty good all year. This is the type of kid who a Euro scout sees and drools over because of his physical tools. Could be his breakout tournament, or could be just another. Hard to know with Wynn.
—————
Freddy Adu (M) – The creative hub of the midfield. We all have seen what he can do. He absolutely shreds international age group competition. He did it in qualis, and I feel completely comfortable saying he is going to do it again. If the USA is to advance in this tournament, this is likely to be the cat you're talking about. Don't forget him possibly angling for a loan and/or transfer as well.
Michael Bradley (M) – The shop window looms large here. More than enough incentive for Bradley with his transfer move still up in the air at this point. Next to McBride he is one of the most experienced players on the squad and will be looked at as a leader in the center of the park. He's gotta perform and he knows it.
Maurice Edu (M) – Another player possibly looking to move over seas at some point. Also staking a claim for his position in the pecking order of center mids in Bob Bradley's scheme going forward. Could form a nice pairing with Bradley in the middle of the park depending on where Nowak turns to for formations and such.
Benny Feilhaber (M) – Hey now, hey now, my Benny's back! Ok, we don't know if it is that Benny quite yet. In fact, we have no idea how he is going to look. But one thing we do know is that he has the potential to be huge. This could be the tournament that turns around his career and he knows it. This is a terrific selection by Nowak as Feilhaber is easily one of the most talented players on the whole roster and definitely the one who has the most to prove. Could be a perfect storm for success and a comeback.

Stuart Holden (M) – Provides class on the flank from a service point of view. Won't be a first choice midfielder, but certainly brings things to the field that other players don't. Gives Nowak options with tactics and a different look when he wants it.
Sacha Kljestan (M) – Another key component to the midfield. Could play in the middle or on the right. Didn't like what I saw from him in qualifiers as it looked like the pressure of the captaincy and such got to him a little bit. Since then he has been looking like an MLS version of Kaka (maybe it's the AdiPures?). His touch and his vision are found few and far between in the domestic league and he has a chance to prove his worth to the always watching Bob Bradley. The midfield is crowded on the senior level, but a push can always be made.
Danny Szetela (M) – Another immensely talented youngster. As I continue to write these the more I realize this midfield has the potential for something great. Only problem is, almost all of them are wild cards in one way or another. For instance, you never know what your going to get with Szetela night in and night out; but if he can rekindle some of his U-20 magic he could become a key component of this Olympic midfield, depending on the performances of others.
————
Jozy Altidore (F) – Fresh off his move to Spanish power Villarreal, Altidore still has a lot to prove to a lot of people. That 10 mill transfer fee will be held above his head for sure, so he needs to prove his worth here and show Villarreal that he deserves to get minutes when he rejoins them. He struggled in qualifying, but Brian McBride should help take the pressure off of him.
Charlie Davies (F) – An on and off forward. Mostly off. Has some good qualities but can struggle to finish. Hard to see him making a huge impact with not only Altidore and McBride, but also possibly Freddy being pushed up front with such a talented midfield to choose from.
Robbie Rogers (F) – Enjoying an MLS All-Star First XI season for the Columbus Crew. Could be more sorted for the wing in a tournament like this. Good crosser of the ball but also has the ability to cut inside and get a shot off. Another streaky player trying to make a claim for a senior spot. Here is his chance.
———
As you can see, the theme of this roster is chance. Everyone going to Beijing has a chance to prove themselves in one way or another. Most are of the young and streaky variety. If they play as a team and get hot, they could go places, if not, a crash and burn will ensue.
What do you think about the selections?
Subscribe

USA World Cup Team Blog RSS Feed

Share
blog comments powered by Disqus