Tonight we're gonna party like it's…
June 11th, 2009 | by: Melissa |

Comments Off
Ten years ago this month, a lot of stuff happened. To highlight some of the events recorded over at wikipedia:
* The debut of Napster
* Colombia announced it will include the estimated value of the country's illegal drug crops in its gross national product
* George W. Bush announced he will seek the Republican Party nomination for President of the United States
* Apple released the iBook
… and of course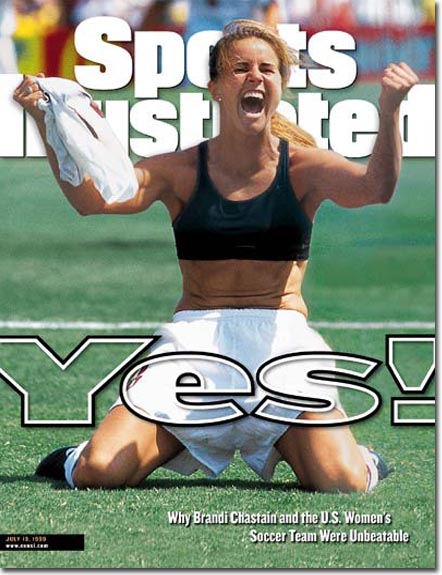 Yup, the 1999 Women's World Cup is officially ten years old this month. Kinda crazy. And WPS is celebrating by doing something or other. The press release has more details.
Working with U.S. Soccer, all seven WPS franchises will feature a 10th Anniversary Tribute Day at one of their WPS home games coinciding with the anniversary of the tournament dates of the 1999 Women's World Cup. Former U.S. Women's National Team players will make appearances, sign autographs and be recognized for their accomplishments ten years ago.

The 1999 World Cup trophy will also travel to WPS venues during this time for photo opportunities with fans and a special collector's edition 1999 World Cup autograph card will be printed for fans.
Uh, cool (I think?). So I guess this means there will be ceremonies and stuff like that. The tour dates look like this:
Saturday, June 20, Saint Louis vs. Washington, AB Soccer Park
Sunday, June 21, Los Angeles vs. FC Gold Pride, Home Depot Center
Saturday, July 4, Sky Blue FC vs. Boston, Yurcak Field
Sunday, July 5, FC Gold Pride vs. Saint Louis, Buck Shaw Stadium
Sunday, July 5, Washington vs. Los Angeles, Maryland SoccerPlex
Sunday, July 12, Boston vs. Sky Blue FC, Harvard Stadium
Sunday, July 12, Chicago vs. Bay Area, Toyota Park
And did I mention that some of the original 99′ers are playing in WPS? So definitely for those FC Gold Pride games, I doubt there will be any cool special appearances because Tiffeny Milbrett, Brandi Chastain, and now 1999 Golden Boot winner Sissi will be on the field playing or riding the bench. I only hope that by the time Chastain has her ceremony, she can get her sports bra out from lockdown.
Subscribe

USA World Cup Team Blog RSS Feed

Share
Comments are closed