Suffix Cup
July 30th, 2008 | by: Brooks Peck |

View Comments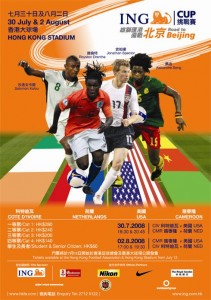 The U.S. team had their first of two ING Cup matches in Hong Kong this morning/tonight/tomorrow night? (China time is already messing with my head). Anyway, they played the Ivory Coast at the mostly empty Hong Kong Stadium (seriously — I think there were more people in my bedroom this morning) and ended up with a fairly ugly 0-0 draw. The starting XI went like this:
————-Guzan————
Wynne–Parkhurst–Edu–Orozco
———–Bradley————-
—–Kljestan—-Holden——–
————-Adu————–
——McBride–Altidore——–
Going into the match, I couldn't help but wonder why they would waste their time with this nonsensical little tournament, risking fatigue and injury right before the Olympics. After the match, I kinda wish they'd play three or four more of these to whip this side into shape.
From the start it was obvious that this team is going to need time to gel. The midfield was spread thin in the first half — Adu had trouble finding space and kept sneaking forward toward goal, leaving Sacha and Holden to cover a lot of ground on their own. That problem was improved upon in the second half when they moved to a 4-5-1 formation with Danny Szetela, Dax McCarty, and Benny Feilhaber coming on to shore things up, while Robbie Rogers brought some much needed pace.
Perhaps most troubling, however, was the ineffectual pairing of McBride and Altidore up top. McBride simply looked out of form, but that can't be entirely blamed for the lack of chemistry between him and Jozy. Charlie Davies came on to play as that lone striker in the second half, and finally provided an offensive threat.
Guzan and the back line served as the bright spot for the United States, as they held a very talented and very fast Ivory Coast side at bay. Granted, Ivory Coast had some similar difficulties of their own to work through, but that shouldn't take away from the fine job the U.S. did defensively.
The next ING Cup match will be Saturday against Cameroon. It'll be interesting to see what changes Nowak makes there (Will he pack the midfield again? Go with one striker — or maybe three?) and whether McBride and Jozy can prove themselves as a viable pairing.
In the end, I think we're going to be saying thank Jebus for the ING Cup — this extra time together ahead of the main event really could prove to be invaluable.
Subscribe

USA World Cup Team Blog RSS Feed

Share
blog comments powered by Disqus