Thoughts on an improving MLS
May 20th, 2009 | by: Marlon |

View Comments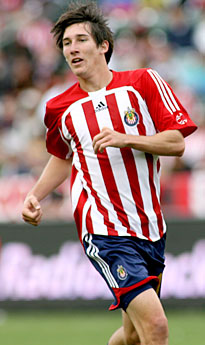 Recently there have been a lot of stories on how the MLS is an improving league. Great shows of enthusiasm from fans in Seattle and Toronto have given American soccer a much needed boost. The MLS clubs are slowly but surely developing youth programs to help young players morph into the stars of tomorrow. As the league grows and the sport grows so should the quality of the US National Team, right?
The discussion is a long one, but soccer may be poised to leap frog hockey as the number four sport in America. American football, basketball, and baseball don't seem to be going anywhere, but while soccer is spreading the interest for hockey seems to only be prevalent in certain areas. This should mean that MLS teams will begin gaining more money, and with more money should come higher quality players. With higher quality should come more fans. With more fans should come even more money. Etc.
So how should the US national team capitalize on the growing American interest in soccer? There is hope that sometime soon the manager of the US team will be able to pick from the often touted young pool of American talent, and if the U17's performance at the CONCACAF qualifiers was any indication then our chance maybe sooner rather then later.
Unfortunately, Bob Bradley can't go around capping every promising seventeen year old who scores a hat trick. He barely has enough time to give players like Freddy Adu and Maurice Edu time on the pitch. There's a logic behind Bob Bradley's managerial moves, but they often seem makeshift. We the fans rarely feel any forward movement.
So when should this great shift take place? When will our young talented players finally be grafted into the national team lineup? 2014? 2018? Can we wait that long? After success in 2002 and dejection in 2006 American soccer fans don't know what to expect from the 2010 World Cup. Can the growing MLS create an enthusiasm that forces Bob Bradley to make some changes?
For years they've told us about the future, but when does the future start to unfold? What does it look like? Will there be some cool goals?
Subscribe

USA World Cup Team Blog RSS Feed

Share
blog comments powered by Disqus