Tim Howard is Just Fine With Domestic Coaching, Thanks For Asking.
September 9th, 2008 | by: Carter Daly |

View Comments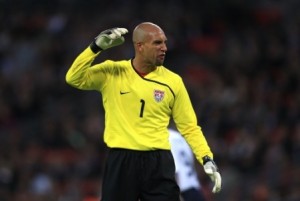 Much has been said of late across the inter-web about the tactics and roster selections of USMNT head coach "Boring" Bob Bradley. He has been proverbially ripped to shreds for the past month, even after posting a (so far) unblemished qualifying record. Suggestions have been made from all angles about who or what kind of coach we should have instead of this boring bald guy with the staunch look on his face and the slow tactics. Many think the foreign option should have been the way to go back when Sunil Gulati was in the searching phase after Bruce Arena's firing/retirement post World Cup 2006. Names such as Jurgen Klinsmann and Jose Pekerman were battered around, but when the dust finally settled and the interim tag was lifted, American born Bob Bradley was named the head coach.
And Tim Howard is absolutely fine with that, thanks for asking.
"You can ask L.A. how it worked out for them," said the U.S. goalkeeper in reference to Dutch coach Ruud Gullit, who parted ways with the Los Angeles Galaxy less than five months into his first season.
"I don't think people always know what they're talking about. An idea from a website gets put in someone's head and they run with it without thinking for themselves.
"I think we're playing well under Bob Bradley and there's a reason for it — we believe in his system. A foreign coach is not always the answer. Certainly not in this case, because things at the moment seem to be going well."
While much has been said about Bob Bradley's capability or incapability to take this program to the next level, the one thing that cannot be argued is that his players believe in him 100%. Even in the MLS, whether it was with Chicago, NY, or Chivas, the players were certain he was the man to lead them into whatever battles they would face.
Writers and bloggers and commentors aren't at every training session or in every locker room, so it is hard to base our judgment off of any thing but what we see on the field. In this regard, words like this from Tim Howard, a veteran leader on this team, carry a lot of weight into trying to understand the inner workings of this Bob Bradley run team.
If players say this is the guy they want, than this is the guy they are going to have to roll with. We can only trust what they say and how they are feeling about the situation.
Even so, I'd love to hear what a Freddy Adu or Jozy Altidore or Kenny Cooper would have to say about the Bob Bradley regime. While he does have the grizzled American soccer veterans' respect, he may not be the man to lead this program beyond its possibly low expectation level at this point.
And that is why people are calling for his head, the expectation of the future. Where the youth players are stars in foreign leagues and our goal is to take a punchers chance at the big one. All the while Bob Bradley is just focused on winning the next game, as he usually does.
Subscribe

USA World Cup Team Blog RSS Feed

Share
blog comments powered by Disqus