USA Needs Feilhaber
June 10th, 2008 | by: Carter Daly |

View Comments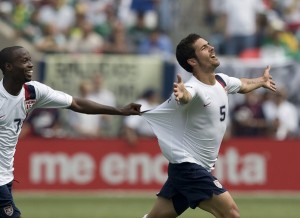 The disappearance of Benny Feilhaber has been filled with auspicious events since his outrageous Gold Cup winning half volley against El Tri, but one thing is painfully apparent when the Americans take on top international sides, we need that Feilhaber. Not the one who barely touched the pitch at Derby, not the one who may or may not have been kicked out of a Nat team camp for fighting, and not the one who is constantly on the trainer's table.
Just about one short year ago, Feilhaber was the it prospect. Although not a teen sensation like Freddy Adu or Jozy Altidore, Benny was the missing link between the destroyers and the attackers. A two way central midfielder the likes of which the USA had not possessed as long as I could remember. The combination of his creative ability and willingness to track down opposing attackers made him the perfect partner for the even yougner Michael Bradley. And would it be completely off-base to think that the dip in Bradley's recent form could be due to those playing next to him? While Ricardo Clark, Pablo Mastroeni, and Maurice Edu all bring their own qualities to the table, none of them posses silky smooth movement, pinpoint passing, willingness to get forward, and defensive determination that Summer '07 Feilhaber showed.
While it may not be as apparent against Barbados or any other CONCACAF foe, when group play rolls around by the summer of 2010, it would do the squad a lot of good to say hello to Summer '07 Benny Feilhaber once more.
Subscribe

USA World Cup Team Blog RSS Feed

Share
blog comments powered by Disqus