Who Should Be Our Next Manager? Guus Hiddink
June 24th, 2008 | by: Carter Daly |

View Comments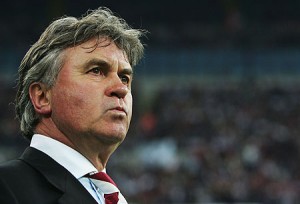 You must realize first and foremost that this is not a call for Bob Bradley to be fired, although I know many of you are not happy with his performance.
Do you want to see a USA squad that uses the most of its talent? A squad that doesn't stay confined within the box of logical soccer? A squad that pushes its limits to the point it is challenging traditional world powers in major tournaments and World Cups?
Well look no further than Guus Hiddink for manager.
All you had to do as a soccer fan these past couple weeks was flip on ESPN to see Hiddink's current team, Russia, qualify out of a group with Spain, Sweden, and defending champion Greece, then go on to stun the hottest team in the tournament and potential favorite, the Netherlands. But this is far from the first time Guus has taken what you could call a "middle of the pack" football nation to glory on a grand stage.
Remember South Korea's technical and speedy game play in the 2002 World Cup, where they managed a fourth place finish in front of their home fans? The man behind that masterpiece was, of course, Guus Hiddink.
And how about Australia's round of 16 performance in the 2006 World Cup, where they went out on a harsh penalty kick in the fifth minute of stoppage time to eventual champions Italy. Once again, Guus Hiddink was the man pulling the strings.
While Bob Bradley is a decent coach, and the team seems to be progressing fine, what the USA needs is Guus Hiddink at the helm. A coach who can take a nation on the cusp of being great, but not quite there, and turn them into world beaters on the world's stage. We have the pieces; we just need the right guy pulling the reigns. And that man would be Guus Hiddink.
Don't expect it to happen anytime soon though. Guus is Roman Abromovich's boy, and is contracted to Russia through the 2010 World Cup. But after that, please make the call Sunil.
Subscribe

USA World Cup Team Blog RSS Feed

Share
blog comments powered by Disqus