Jozy Altidore's Injury and the Final Friendly
June 4th, 2010 | by: Ed |

View Comments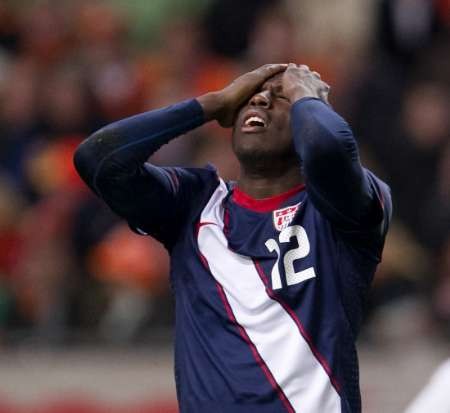 News on the striker's fitness ahead of the last go-round for both sides.
Let's go to the biggest news of the day first, coming from the official site:
U.S. forward Jozy Altidore was held out of field training Friday afternoon as he continues to recover from a mild sprain to his right ankle suffered in training two days ago. He continues to make favorable progress, and his status remains considered day to day.
This obviously makes him a doubt for tomorrow's friendly wind-down, which, quite honestly, I'm not too disgruntled about. Were I an England and Rio Ferdinand fan, I'd be distraught. Here, though, I'm taking the news at face value—mild ankle sprain, likely precautionary to keep him out of training, no need to risk anything ahead of next Saturday's opener with the aforementioned Rio-less England. Even more encouraging, nobody in the squad is panicking.
If none of it is face valid, though, you've got to be concerned. It wouldn't be a doomsday scenario, but whether by choice or by force, Jozy Altidore has become it for the US ahead of the World Cup. His absence would have to be seen as a major blow to Bob Bradley's plans—I think it's safe to say that Altidore's a lock in the starting eleven at full fitness, and everyone else is auditioning for the supporting role. Fingers crossed.
There will likely be plenty more news in the coming hours and days, and we'll be sure to post anything we get a hold of. On to tomorrow's match, then.
Who: United States v Australia
What: International Friendly Match
Where: Ruimsig Stadium, Roodepoort, South Africa
When: Saturday, June 5 (kickoff scheduled for 8:30 am EST)
Why: Because both sides need to figure out who the hell is going to be playing next weekend, and Pim Verbeek desperately needs a distraction from how "stroppy" he's getting over the constant questions about that dreamboat Harry Kewell.
Obviously this is going to be a balancing act for both sides—both need to ensure that they come away unscathed, but both also need to find their best eleven ahead of next weekend. And whether it's due to form or fitness, both Verbeek and Bob Bradley still have some significant questions to answer.
Let's start with Australia. Alluded to above is the ongoing Harry Kewell fitness saga, one not unfamiliar to those who've followed his injury-plagued career. And while he's been maligned a bit in the press, I think Verbeek has a very valid point—there's 22 other players in the squad, and the absence of Kewell is no big surprise. Most of it is likely down to his anointment as a national hero from the last World Cup, but since that time he's been unable to string together any significant number of matches and only played, quite literally, a small handful of minutes in 2010 for Galatasaray.
As for the other 22, then. It starts with the experience of Mark Schwarzer in net, and while there's no news about Verbeek getting stroppy about the keeper, he did miss last week's friendly with New Zealand. Clint Dempsey's Fulham teammate should be back tomorrow, and Australia fans will be hoping he provides some sort of inspiration after a decidedly uninspiring win against the All Blacks.
The 2-1 win over New Zealand wasn't the anomaly, though—Australia's been objectively not good in the last few weeks, and it'll be interesting to see what sort of performance Verbeek gets from them tomorrow. They've got the names—Tim Cahill, Brett Emerton, Lucas Neill, Josh Kennedy—but simply haven't put it together in their two previous friendlies. Now's about the right time for them to start, as it's their last chance to figure it out in live action before what will surely be a daunting opener against Germany.
As I mentioned, it's a relatively similar scenario for the US—Bob Bradley has been encouraged by the progress being made by some of the fresher faces, and he's got to be heartened by the second-half display against Turkey last weekend.
But there's still a few major questions to be answered, and at least for tomorrow, the likely absence of Jozy Altidore makes things more complicated. It does, however, give Bradley an excuse (read: mandate) to continue to tinker with the squad's look up top. As of right now, there's no clear-cut favorite to partner with Altidore (assuming Bradley is going with two up top), so we're surely going to see Edson Buddle, Robbie Findley, and Herculez Gomez all at some point. Clint Dempsey's performance as a striker against doesn't bode well for his chances the role, and he'll be shuttled back to midfield opposite Landon Donovan.
The midfield seems to be making itself clearer and clearer, and I can't help but see a starting spot for Jose Francisco Torres. Marlon mentioned in his post-game thoughts last Saturday (and his post-game thoughts after the match with the Czechs, and the liveblog against the Czechs…) that the US is probably at their best with Torres on the field, and it's a point that has only gotten stronger with repetition. He's made leaps and bounds in terms of composure and decision-making, and a partnership with Michael Bradley should be on the cards (with the previously mentioned Dempsey and Donovan wide). And, after this fantastic piece by Ryan O'Hanlon at Run of Play, it's hard to argue with his influence.
The last question, then, is in defense. If Oguchi Onyewu is fit, and after the great shift he put in last Saturday I'm assuming he is, I'd look for him and Jay DeMerit to partner in central defense. I'm not sure that Clarence Goodson displaces DeMerit—the former is skilled in the air, but I think DeMerit is the better all-around package. And as for the fullbacks, the fitness of Onyewu pushes Carlos Bocanegra to left back, where he performed capably last weekend. At right back, though, there's still some sorting to be done. Jonathan Spector was dismal before being replaced by Steve Cherundolo against Turkey, and tomorrow's going to serve as their final audition for the starting spot.
And that's that. It really is starting to feel a bit differently—just over a week away from the real deal and the anticipation is mounting. As I mentioned, any news on Altidore will be posted as soon as it's available, and we'll have the normal matchday rigamarole tomorrow, including a live-blog starting just before kickoff and plenty of thoughts and discussion afterward.
Subscribe

USA World Cup Team Blog RSS Feed

Share
blog comments powered by Disqus