Edson Buddle Has to Be in Bob Bradley's 30 Man Preliminary Squad, But Will He Make the World Cup 23?
April 19th, 2010 | by: Daryl |

View Comments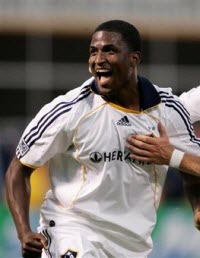 Three things you need to know about Edson Buddle:
1. He's scored seven goals in four games for LA Galaxy this season.
2. That mean he's scored ALL the Galaxy's goals. All of 'em.
3. His first name is Edson because his father named him after Pele. Fact.
Take a look at his four most recent goals. Here's the two he scored vs Houston Dynamo last week:

#1: I didn't see any room inside that near post. Pat Onstad didn't see any either. But Edson Buddle did.

#2: Bang.

Buddle also scored two this past weekend as LA got some revenge for that MLS Cup 2009 defeat by beating Real Salt Lake 2-1.
#1 Far post header.

#2 One touch and, again, bang.

Buddle was apparently a promising young striker, but is now 28 years old and so far has just one cap for the United States, earned way back in 2003. But a hot streak is a hot streak, and based on the above stats and video, Buddle has to rank head and shoulders above more recent MLS based striker callups like Jeff Cunningham and Robbie Findley.
I think it goes without saying that based on the above videos, Buddle definitely deserves a place in Bob Bradley's 30 man preliminary squad. There's no way to ignore a man in that sort of form. In fact, if Buddle doesn't make the 30 man squad, then they should just fold Major League Soccer. Because if an American striker plays like that in MLS and doesn't get selected, then clearly it's all a waste of time.
Here's the bigger question… Does a hot streak in MLS mean that Buddle makes the actual 23 squad that competes in South Africa?
Subscribe

USA World Cup Team Blog RSS Feed

Share
blog comments powered by Disqus