Hooray for the Easter Benny!
April 16th, 2011 | by: DAS |

Comments Off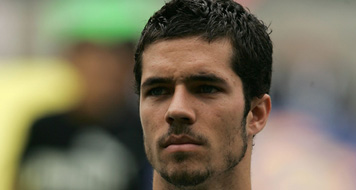 MLS recently announced the signing of Benny Feilhaber from AGF Aarhus of the Danish second division. Feilhaber has been a regular sub for the USMNT, often adding a needed jolt of energy to the midfield late in games. He was getting some playing time in Denmark, so this move may not have a huge impact on his role with the national team. But being back in the US will almost certainly guaranty him a starting role and will also make him more visible to Bob Bradley.
With our plethora of midfielders, I'm not sure Feilhaber has much a chance of earning a starting position. But I have always been a fan and hope this helps him keep a foot in the door, at least as a sub.
Feilhaber has not yet been allocated to an MLS team. Chivas has first option and will decide after their Sunday game. Philly would be next, though reports are that they aren't interested. NE is third in line. I expect Chivas will pick him up, but if not I can't imagine NE passing. Whoever takes him, it will nice to get to see him play on a more regular basis.
Subscribe

USA World Cup Team Blog RSS Feed

Share
Comments are closed