Is Najar'd to Decide
April 2nd, 2011 | by: DAS |

Comments Off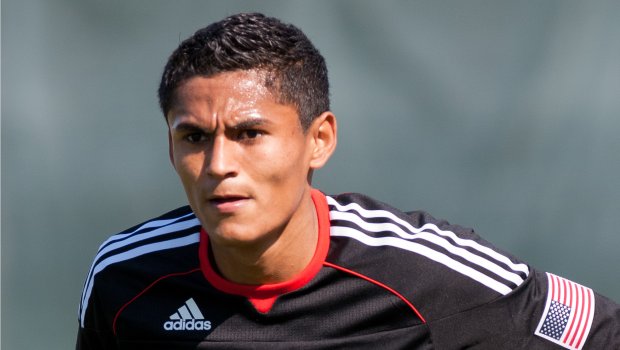 Andy Najar is the 18-year old winger, already believed by some to be one of DC United's best players. He had an impressive first season, making 28 appearances and scoring 5 goals. That performance created a lot of buzz, particularly because he is a US resident on a path to citizenship and could play for the USMNT or for his home country, Honduras. Rumors are that Najar will announce a decision within the next two weeks. But it doesn't seem to me it will be hard for him to decide.
Najar is two years away from US citizenship (absent an act of Congress), which means he is not eligible to play for the US for that period of time – a critical part of his early career. Even if he did choose us, the USMNT already mostly uses Donovan and Dempsey as wingers and by that point will likely have solidified on a core group of starting players. Meaning that once Najar qualifies, he'd be in a tough competition to get any playing time. I suppose there is no guaranty he'd get playing time for Honduras either, but it is far more likely. They don't have the same depth in the player pool to begin with and they would be able to start developing him now as an exciting young prospect (like Agudelo or Ream for us).
Add to this list of factors that Najar is actually Honduran. Yes, he has spent a number of years in this country, but culturally I think he must identify with his home. That can be a very compelling factor, just ask Guiseppe Rossi.
The only real advantage I can see to him aligning with the US is that it probably increases his chances of being with a team that will qualify for and make it deeper into major tournaments. But that seems to me a very weak factor compared to the benefits of playing for Honduras.
I had initially hoped Najar would pick the US and be part of the incoming group of young players igniting the USMNT to new heights. But at this point any enthusiasm I had about him choosing the US would be heavily tempered by my feeling that it's just not the right choice for him. Certainly I won't be sad to have him if he chooses us, but I'm not expecting that to happen.
Subscribe

USA World Cup Team Blog RSS Feed

Share
Comments are closed