Ream Cheese
May 20th, 2011 | by: DAS |

Comments Off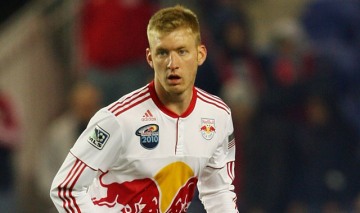 I finally had the opportunity to see Tim Ream play in person when the Nerb (New York Red Bulls) faced the Gals (LA Galaxy) at the HDC a couple of weeks ago. I was truly impressed. Unlike most MLS defenders, he took his time distributing the ball out of the back. And he didn't just boot it or pass it off. He took his time, measured his options, and distributed it well. He was fast and aggressive in taking the ball and moving it around. When Donovan tapped the ball towards an open net — in what we believed was an assured goal — Ream burst in out of nowhere, jammed on the afterburners, and cleared the ball just before it crossed the line. It was a stupendous performance.
His skills would have impressed me even for a 20-year veteran. But this is a second year player who is only 23 years old.
I thought I might be alone in my Team Ream membership. But today I read an interview with Alexi Lalas on the Major League Soccer Talk blog and he ranks Ream on his starting XI best American players of all time (http://me.lt/2D9I4).
As an LA Galaxy fan, it wasn't so great to see this 2nd round draft pick becoming the gem of the 2010 class for another team. But the prospect of a young, new, talented center back for the MNT is scintillating. He has only had two caps and played under a couple hundred minutes for Bob's Big Boys. But Ream has a bright future and I'm hoping we'll see him starting in that center back position more often (right next to Omar Gonzalez some day hopefully).
Twitter: @dschnider
Subscribe

USA World Cup Team Blog RSS Feed

Share
Comments are closed