Second of Three: USA v Turkey – Match Preview
May 28th, 2010 | by: Taylor |

View Comments
Who: United States v Turkey
What: International Friendly Match
Where: Lincoln Financial Field, Philadelphia, PA
When: Saturday, May 29 (kickoff scheduled for 2:03 EST)
Why: Because Jonathan Bornstein hasn't quite perfected his Bill Goldberg-esque "Spear" yet, and really needs the practice if he's going to earn a horrible red card this June. He could also do well do have that music playing behind him any time he does anything.
Points to Ponder
1) I have no idea what to expect from Turkey. Obviously, they're a fairly talented team (just ask Switzerland, the Czech Republic, and Croatia: see below), and they play a ridiculously exciting brand of football… at least they did in 2008. Nowadays things are slightly different.
The Turks were favored to at least make the World Cup playoffs, but failed to even make it that far. Inded, they finished third, 15 points behind Spain and 4 behind Bosnia and Herzegovina. Their consistently intense Manager Fatih Terim accepted responsibility for the shortcoming, and promptly resigned hi post at the end of qualifying. That was in October, and a scant four months later famed Manager Guus Hiddink agreed to take charge of the Turks and, ostensibly, lead them to an amazing performance in Euro 2012. However, Guus doesn't take charge until August 1, so until then Turkey is "somewhat" rudderless.
I say "somewhat" because they've already had a pretty successful summer vacation. On May 22, the Turks knocked off the Czech Republic in front of a packed Ataturk Olympic Stadium (it seats 76,000… there were 12,000 in attendance). Hiddink's future squad then boarded a plane bound for the USA and, on Wednesday night, bested a young Northern Ireland team 2-0. So, uh, I guess the point here is that even without a manager, they were able to beat two pretty talented European teams. So… that could be an issue…
2) Is Oguchi Onyewu's "Beard Situation" (yeah, in capitals) the opposite of Sampson? We all know Sampson. He was crazy strong, he posed in the "Naked" issue of ESPN: The Magazine, he let his girlfriend cut his hair, and then it all went to shit. One of those things may have been about Onyewu… I forget… The point is that Onyewu sans-beard was an incredibly talented defender that could have had an impact on an aging Meelan side. Bearded defender? He doesn't appear to remember how to jump, he looks more than a little rusty, and apparently requires an entire glacier to calm his swelling knee. Now, I'm a big fan of the full beard (it's how I've hidden my double chin for all these years) and I do think Gooch looks particularly terrifying with that thing in effect. However, Onyewu may need to learn a reverse lesson from The Bible… Cut the beard and your powers will return? Or maybe the lesson was "miss seven months because of a severe injury and maybe you won't immediately return to form"…. I forget…
3) In order to properly explain our back line, I am forced to implement the greatest joke format of all time. "Hey… USA… The French Army circa 1940 called… They want their defense back!" Boom! Jokes! But yeah, seriously… what the hell are we gonna do about this one? The Gooch Issue (that sounds far too dirty) aside, we're okay in the middle. Out wide? That's a different story. Assuming Onyewu is healthy and DeMerit isn't blind, Boca will probably fill in on the left side. On the right? Pick your poison: Spector, Cherundolo, or Bornstein? Basically, would Turkey rather run around us, directly through us, or be linebacker-style tackled by us. I honestly don't know what Bradley should do here… but that won't stop me from criticizing whatever decision he inevitably makes.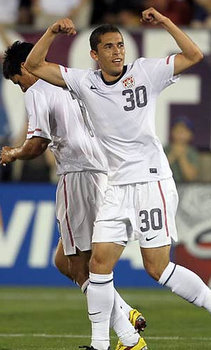 4) Where will the goals be coming from? Obviously, Altidore will be starting up top but, assuming USA come out in a 4-4-2, who will be up there with him? There are four real options:
1) Edson Buddle – The LA Galaxy worked insanely hard against the Czech Republic, but wasn't ever really able to establish his game. Plus, he spent 45 minutes trying to adjust to playing in slow-motion (per Eddie Johnson's preferred style).
2) Robbie Findley – Is not a viable option… Now more than ever I believe the conspiracy theory I put forth in Thursday's podcast. Basic idea: Bob Bradley was so fed up by people mocking him/hating on Brian Ching that he basically selected Findley so that when the Real Salt Lake goal scorer struggles to impress, Bradley can turn to the camera and say, "See? I should have brought Ching!"
3) Herculez Gomez – Okay, disclaimer: After watching him dazzle Altidore with his magical abilities, I have officially 1) developed a man crush and 2) decided that I will exclusively refer to him as "The Magician". Also, he scores goals… So there's that too…
4) Clint Dempsey – The odds on favorite, especially given Stuart Holden's return from injury/ability to play out wide. When not busy rapping like a champion, Deuce also enjoys netting beautiful goals for club and country.
For me, it comes down to Holden's fitness. If he proves he can do the full 90 AND STILL play a VERY productive role out wide, then Deuce should probably get bumped up top. However, if Holden struggles/still shows signs of injury/forgets to frost his tips, then 1) Gomez, 2) Buddle, or 3) Findley (in that order) should get a shot.
5) Which member of the podcast crew will make the biggest scene and/or be escorted from the stadium? Albert is the odds on favorite, Josh and I have similar odds, and Daryl is the longshot of the group. So who will be the winner (also the loser)? Well, if you're going to be at the game, then you can see for yourself. Email us at soccer@wrir.org and we'll let you know the pre-game details. If you're not in attendance, then you are fully expected to do your pro-USA duties: drink whiskey, yell at the TV, and celebrate any goal by doing your best rendition of the "Stanky Leg". Stuart Holden would be proud.
Subscribe

USA World Cup Team Blog RSS Feed

Share
blog comments powered by Disqus