The Pit of Despair
September 3rd, 2011 | by: DAS |

Comments Off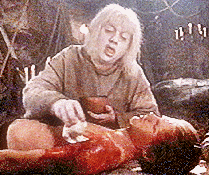 I know it was just a friendly. I know it wasn't the full team. I know it doesn't mean anything. Yet I still found myself feeling a bit like Wesley in the Pit of Despair, torture device and all.
The real agony is not in losing 1-0 to Costa Rica in a friendly. Nor is it Ian Darke's insistence on referring to them as Honduras. It is that for large portions of that game we dominated. For a good 30 of the first 45 minutes we manhandled those Costa Ricans. And yet, the old wound still throbbed – no finishing.
There were some high points. Brek Shea was very threatening and has a lot of potential. I've never been all that impressed with Torres, but I have to admit he did look pretty good tonight. Altidore and Agudelo both looked more promising. The 4-3-3 formation made for more exciting play. Perhaps more importantly, there was a lot of really good possession and ball movement by the US squad. That gives me hope that there is a better future.
But there were clearly some less inspiring performances. Frankly, 3/4 of the back line was uninspiring. I exempt Chandler because I thought he had some good contributions. But it seemed to me that an error by Bocanegra led to the goal. Orozco Fiscal and Castillo did not impress. Rodgers had good moments, but overall was not much of a threat. And unfortunately Donovan had a relatively poor showing, capped off by missing what should have been an easy goal for him.
In any event, it's one game. I like that there are young players out there. I like that Klinsmann is mixing things up. I like the bit of development I already see. And, much as I liked Bradley, I'm glad we now have a coach who seems genuinely interested in talking about the game afterward.
Now on to Belgium and a new set of players.
What did you like in this game? What do you think of the formation? The players called up? Have you turned on Klinsmann already or do you like where things are headed?
Subscribe

USA World Cup Team Blog RSS Feed

Share
Comments are closed