US DRAWS 1-1 AGAINST ARGENTINA
March 29th, 2011 | by: michael |

Comments Off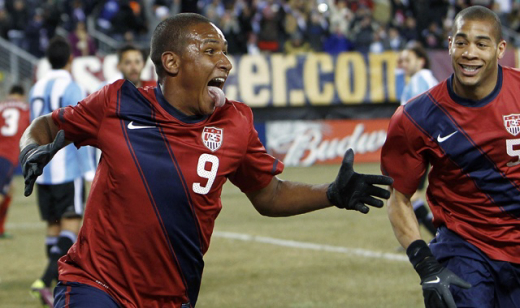 Sorry I have not posted this sooner. I've had one of the worst weeks in terms of schoolwork.
Bradley started off the game was a 4-2-3-1 formation that was mostly ineffective. I don't know why Bradley tries this formation. It has not worked well for us in the past, and Bradley still hasn't gotten the starting XI right. Argentina outplayed the US in the first half.
Bradley went to a 4-4-2 formation to start the second half and brought in New York Red Bulls striker Juan Agudelo and German born player Timmy Chandler. The offensive seemed to click more when they came in. Altidore, who was ineffective in the first half, and gave the ball away, showed much more energy when he was alongside Agudelo. Chandler created multiple scoring opportunities for US, and maybe has earned a starting spot in the game against Paraguay. Agudelo scored the only goal for the US.
Donavan had a disappointing performance, and didn't really hear his name too much from the announcer. Michael Bradley was the best out of the central midfielders. Bradley was hard to the ball, and broke up opponent's attacks.
In his first three appearances with the national team, Agudelo has scored twice. If he continues to develop as a player, the combo of both him and Altidore will be very dangerous.
Star of the Game: Tim Howard
Even though Howard didn't play as well as he did in the June 2008 matchup against Argentina, he still made some fantastic saves that helped the US earn the draw. The most memorable moment by him came in the 47 minute with a one-on-one save against Messi.
Most Disappointing Player: Oguchi Onyewu
Onyewu played a very disappointing game. Onyewu has not been the same player since his knee injury in 2009. He had poor distribution and seemed to panic when he got into trouble. DeMerit and Bocanegra also didn't help Onyewu in the back. Overall, the US defensive was the black eye for the game. Tim Ream and Omar Gonzalez are coming up behind them fast….
Again sorry I didn't post this sooner. I've had a lot of schoolwork this week.
Subscribe

USA World Cup Team Blog RSS Feed

Share
Comments are closed