USA – Czech Republic (2 – 4) Post-Game Thoughts
May 25th, 2010 | by: Marlon |

View Comments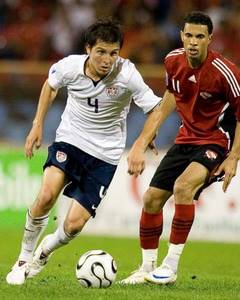 Well, let's start with the positives. The USA looked very good in the first half. I live blogged about how it was important for Jose Francisco Torres to come in and stake a claim for his spot in the midfield, and I was happy to see Jose come in and dictate the flow of the game. His presence on the field really cut down on the long balls from the back that the US team usually heaves forward incessantly. I was actually very annoyed when Bob Bradley was interviewed after the game and didn't mention how well Torres did. There were a lot of causes for concern tonight, but there were some good performances as well. So, here are my notes from tonight's game:
- Stated above, but Jose Francisco Torres really showed why he is valuable to this team. He didn't do so well against the Netherlands, but when paired with an energetic and tough tackling midfielder like Michael Bradley, Torres tendencies to hang back and spread play could be very useful for the USMNT.
- Of the three strikers trying to break into the US squad, Gomez showed the most promise. The intelligence of his back post run for the goal he scored on the corner should not be underestimated. Hercules Gomez has a nose for goal. He showed more ability in one swivel, turn and shot at Petr Cech than either Buddle or Johnson showed in their 45 minutes. Buddle was eager and hard working, but he rarely looked dangerous and he never shot on goal. Johnson, similarly, was pretty anonymous. Both strikers spent most of their time on the field struggling to hold the ball or being caught offside.
- DaMarcus Beasley looked a lot closer to his old self then he has in recent performances for the national team. His unfortunate time as an out of position leftback may have clouded my memory of just what Beasley can bring to a team, but I'd welcome back the old Run DMB any day.
- Speaking of leftback, the USA's most problematic position continues to be… well a problem. Jonathan Bornstein and Heath Pearce both looked terrible tonight. Given how good Steve Cherundolo looked I'm willing to say that perhaps Jonathan Spector should play at leftback for us. It's true he didn't have a great season there for West Ham United, but there's absolutely no way he wouldn't be an improvement over Bornstein and Pearce.
- I'll sum up what I think of Clarence Goodson in two sentences. Great in the air. Not good on the ground.
- I hope that Onyewu is able to fully recover and get fit for the World Cup. He showed that he can still read the game very well and he looked confident and quick in possession and defensively on the ground, but his getting beat in the air for the first Czech goal really showed that he might not be 100% yet. I'm willing to give him sometime to sort it out, but we might be starting Jay DeMerrit and Carlos Bocanegra in the center of defense come June 12th.
- Stuart Holden looked sharp in the first half, and he continues to be one of the better talents on the US team. He needs to get match fit, but I'd like to see him start on the right side of midfield so that Clint Dempsey can play as a striker.
- 4 – 2 wasn't the result we wanted, but let's not forget that we were the better team in the first half. The Czechs managed to equalize after an inevitable dumb foul by Bornstein, but other than that we looked like a much better team with a good amount of our best players watching in the stands. It's always sobering to lose, especially when spirits were high after the Gomez goal, but all in all all was not lost. The host of changes in the second half certainly unsettled the team and an experienced Czech team was able to take advantage. Let's see what we do with a full team against Turkey before we let dark clouds rain on our World Cup parade.
Subscribe

USA World Cup Team Blog RSS Feed

Share
blog comments powered by Disqus