USA – El Salvador (2 -1) Post-Game Thoughts
February 24th, 2010 | by: Marlon |

View Comments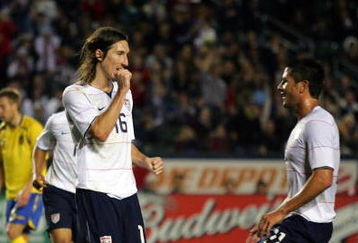 Despite the 2 – 1 victory, tonight's performance by the USMNT was less than spectacular. In my notes I found myself criticizing more often then praising, and when El Salvador took the lead I feared our fringe players would let us down again on home turf. So, to be absolutely fair, it was nice to see the team battle back. Brian Ching is very much able to score when a goal is put on a plate for him, and he absolutely buried the open header he was given. Sacha Klejstan's last minute winner was a very cool finish, and I can say I feel this win was deserved. I'll also say I felt like there wasn't enough quality out there for the US tonight. Too many wasted opportunities and too much sloppy play in the midfield. A win is a win, but now is no time to rest on our laurels. Here are my notes from tonight's match.
- I'm told Conor Casey is important to have around because he can hold the ball up, but tonight he wasn't very good in possession and the timing of his runs was generally poor. He was caught offside in places where he didn't need to be, and this irked me somewhat.
- The central midfield needs to have more quality in it then what Kyle Beckerman and Sacha Klejstan can provide. Sacha's finish at the end of the game was nice, but neither of the two looked very confident with the ball. I don't get the Beckerman buzz at all. I've never been very impressed with him. I'll be honest here, I respect all kinds of beliefs and counter culture movements, but I don't want the US to be the only country that brings a hippie to the World Cup.
- Dear Bob Bradley: Can we stop picking Robbie Rogers over Freddy Adu now? I realize the whole Adu thing is controversial. Freddy isn't very popular with the USSF these days and Bob seems to be pretty pleased with finally getting rid of him. Adu, however, has been showing he hasn't lost much from what we last saw from him when he was playing well. He has two goals and an assist in three games in the Greek league. Meanwhile Robbie Rogers spent most of first half running up and down the pitch like a lost puppy. Yes, he did assist Brian Ching's goal in the second half, but he also wasted several chances and I don't think he deserves the World Cup roster spot ahead of Adu. Adu is just much more talented.
(EDIT: It was Heath Pearce who assisted the Brian Ching goal. My analysis now becomes stronger.)
- Robbie Findley is not an acceptable Charlie Davies replacement. I've seen him play twice now with the national team and both times he was off the pace of the game and contributed nothing of real value. Even at the MLS level I didn't think Findley was the best of finishers. Charlie Davies is fast, strong, skillful, has a good touch, and is blazing fast. People seem to be forgetting that there is much to Charlie's game then speed and in an attempt to replace have simply said, "Well, who else do we have that is fast?" Let's stop trying to replace Davies and find quality to put in this roster slot. Here is another place where I could nominate Freddy Adu.
- Goodson looks like a solid choice as a back up defender, but his positioning on the goal was a bit dodgy. I'm not sure why Bornstein was played as a centerhalf (though I have seen him play there for Chivas) but he didn't look uncomfortable and his lack of pace wasn't there to be exposed when playing in the middle of defense.
- Eddie Gaven? Seriously?! Eddie Gaven?!
Subscribe

USA World Cup Team Blog RSS Feed

Share
blog comments powered by Disqus