USA vs. Ghana (1 – 2) Post-Game Thoughts/Post-Tournament Thoughts/Wistful Goodbye Poem
June 26th, 2010 | by: Marlon |

View Comments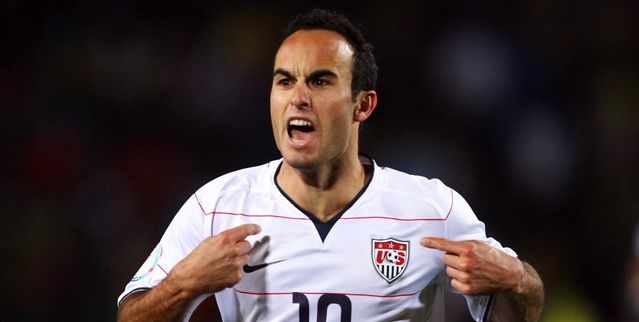 Was I too soon to trust Bob Bradley? Or I am just a fickle fan? Maybe I should give Bob Bradley more credit, but I can't help but feel his insistence on starting Ricardo Clark and Robbie Findley single handedly cost the United States the game. Leave alone the fact that Findley can hardly put a shot right and Clark personally gift wrapped goals in every game he played in this World Cup. The fact that he had to waste substitutions on them so soon killed the tired US players at the end of the game and in extra time.
It's true that Bradley made a number of game changing substitutions in the Slovenia game and the Algeria game (and even in this game), and we were all high on their success when we won or drew those games. But now we've lost. So now it's time to ask why Bob Bradley had to make those drastic changes. It's nice that Bob can change his tactics so swiftly when he gets them wrong, but this time his getting them wrong cost us big time. Why couldn't he make the right moves the first time out? Why was he unable to predict that the midfield pressure of Ghana would be too much for Ricardo Clark–a player who is useful in tackling only.
I can accept that the USA lost to a good team, and that the players played to the best of their abilities. But when the team concedes goals in the first fifteen minutes of nearly every game (excluding the Algeria game, and they probably should have) when do I get to blame our suddenly brilliant coach for not being able to prevent this?
The USA finally found a hole it couldn't dig itself out of and now it goes home after much talk of a chance to make it to the semi-finals. I won't say I wasn't endeared towards Bradley recently. He seemed much more on top of things than I ever considered him to be before the World Cup, but this game and his inclusion of Ricardo Clark has really soured the tournament for me.
With that said: Thanks to all the players (including Ricardo Clark) for giving their all in four World Cup games. There were the obvious standouts. Michael Bradley was excellent. Landon Donovan's three goals were all huge. Clint Dempsey was dangerous and gritty as ever. Jozy Altidore was visibly tired in the fourth game, but he still managed to show a few moments of the spark and skill that make him such an exciting young prospect. Jonathan Bornstein, our much maligned leftback, played two very solid games. In fact, I'd go as far as to say if Bornstein always played like he played the last two games nobody would have ever complained about him in the first place. And maybe there's something to be said about Bob Bradley's coaching in that. I think he was wrong about Clark and Findley, but I think he was right to stick with Bornstein. That's something isn't it?
Let's end on some happy thoughts because it was fun while it lasted. A short list of achievements. The US managed to embarrass the entire country of England just by earning a draw (a goalkeeping error may have contributed). The US managed to be one of the more exciting teams in the tournament by scoring several late goals. The team went undefeated in the group stage for the first time. International pundits heaped a decent amount of praise on players like Tim Howard, Landon Donovan, Michael Bradley, and Clint Dempsey. Really, in all fairness, the team accomplished what it set out to do. A realistic goal. Getting out of the group. It was nice and we were all happy to see it happen because we knew this team could do it.
I have hopes that in 2014 we'll have cause to set the bar even higher.

American Football
I've run the fields with
the other patrician boys
putting foot to ball
our cleats born towards
the screaming Earth
it lacerates and breaks and bleeds
and sprays on us
like something from Lucan
Do you recognize us?
The American boys
playing football?
Subscribe

USA World Cup Team Blog RSS Feed

Share
blog comments powered by Disqus