USA World Cup Blog Podcast: Episode 3 – USA v El Salvador… and Nick Rimando's Tummy
February 25th, 2010 | by: Taylor |

View Comments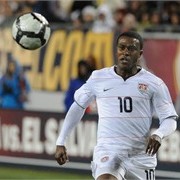 The boys are in studio to break down last night's "thrilling" victory over El Salvador (I say "thrilling" because it looked like the 40 or so people crowding into Tampa'a Raymond James Stadium really seemed to enjoy the overall event).
Which players made a case for their inclusion in the World Cup squad, which players will be making other plans this summer, Robbie Findley demonstrates the "I'm probably not going to the World Cup and and I hate life" face, and Taylor unveils his "Nick Rimando is a despotic tyrant who rules the training ground mess hall" theory… All that and more on this weeks World Cup Blog Podcast!
- You can download the mp3 here and you can find more USA World Cup Blog podcasts here.
Subscribe

USA World Cup Team Blog RSS Feed

Share
blog comments powered by Disqus