What To Do About Adu
March 24th, 2011 | by: michael |

Comments Off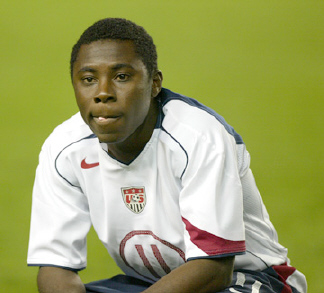 It's April 3, 2004, 14 year-old US soccer sensation Freddy Adu is about to make his MLS and professional soccer debut with D.C. United. RFK stadium is sold out, and kids everywhere are wearing his jersey. There's a certain buzz in the air that wasn't present in any MLS game before. Soccer analysts were calling him, "the future of US soccer".
Well this hasn't been the case…..
One can ask, what has gone wrong? It's 2011, and Adu has been on five European clubs in the last four years, sitting on the bench. In early February, it was announced that Adu would be joining Turkish second division team Caykur Rizespor. In five appearances with the team, Adu has scored twice. Pretty good stats but, he's playing in the second division in Turkey……
Benfica has stated that they would be willing to let Adu move on a free transfer to a new club. He also hasn't seen that much National Team success either. Adu did show promise during his time with U.S. youth teams, notably during the Under-20 World Cup in 2007 (helping upset Brazil), and also in the '08 Olympics. So why hasn't that success carried over to his pro career?
Coaches have said that Adu has the skills but, has trouble getting used to the European style of soccer. European coaches have said that Freddy is "slow to react", and is not "very big".
My solution:
If I were Freddy Adu's manager, I would tell him to swallow your pride and head back to the MLS. For one, the league has gotten much better in terms of skill since he left back in 2007. He's skills will not improve just sitting on the bench in Europe.  Even though he's been playing professional soccer for 6 years, he's only 21. He can still live up to the hype.
Hopefully Bob Bradley puts him on the roster this summer for the CONCACAF Gold Cup. I still have not given up on him.
Subscribe

USA World Cup Team Blog RSS Feed

Share
Comments are closed