World Cup Waaayyyyy Post-Mortem: Is Ricardo Clark Really A Scapegoat?
September 4th, 2010 | by: Paul |

View Comments
Hello USA WCB readers, my name is Paul and I am part of the new writing team here at the USA World Cup Blog. Before I write, I'll tell you a bit about myself- I am a transplant from Houston, TX currently living in New York City. My favorite teams are Athletic Club Bilbao, the Houston Dynamo, and Tottenham Hotspur. Of course, being American, I support the USA National Team. Before coming to the USA blog, I blogged with the Slovakia blog during the World Cup and have been writing for the Athletic Club Offside for a bit over a year now- so you can check out my previous work and judge for yourself whether or not I am worthy of this blog. Of course, you probably aren't here to read about me, so on to the topic at hand: Ricardo Clark's World Cup performance, and why I believe he should not be the scapegoat.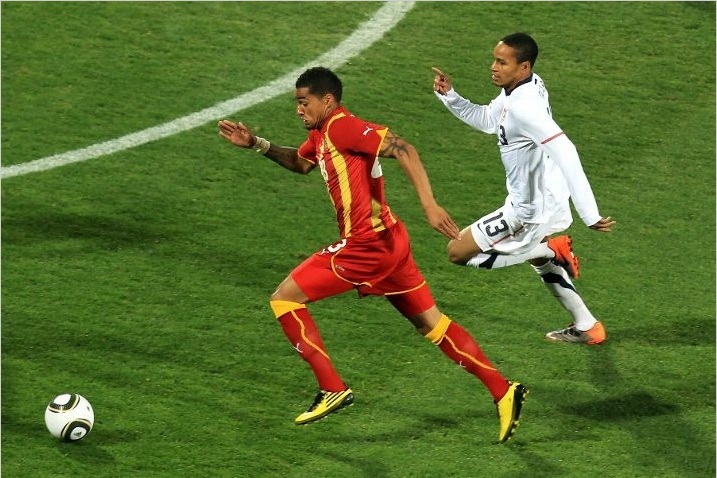 Maybe I am a bit biased, as Ricardo Clark was a key player with my beloved Houston Dynamo, but I believe blaming him for the loss really doesn't make sense. Don't get me wrong, you won't see me argue that Clark did a good job or even that he deserved to start, but it seems to me that Clark has wrongfully become the scapegoat for the failures of the U.S. team in this past World Cup. After many discussions with a friend about this topic, I have decided to use this new soapbox of mine to bring my side of the debate to a broader audience. Here's a rundown as to why I believe Ricardo Clark is wrongfully scapegoated for the World Cup failures.
Was the World Cup REALLY a Failure???: The first point is exactly what the title of it suggests- it's questionable as to whether or not the USA actually failed in the tournament. My answer would have to be no. Sure, I was as disappointed as most Americans when the Ghana game didn't go our way, but I was still proud of our boys and really saw little to complain about in the end. Remember, America, the US National Team still isn't great yet, and they're a team that can beat anybody, but can also lose to anybody. Further, Ghana isn't a bad team- they have very solid young players and were essentially playing on home turf. While the USA had the ability to advance past the round of 16, it's not entirely surprising that they didn't- and we should all still be proud of our team. This past World Cup proved that soccer is growing in this nation, and the team showed many signs of improvement.
Ricardo Clark Really Isn't a Bad Player: This is important to remember. Even though Clark had a bad World Cup, he is still a good player. He was a key member of the Houston Dynamo team that won the 2006 and 2007 MLS Cup Finals, and his departure is part of the reason for that team's poorer performances as of late. With his poor World Cup performance, Americans also seem to forget that he did well in the United States' 2009 Confederations Cup run, where they made it all the way to the final. In this tournament, he played well and did what he had to do as a holding midfielder, and played in four of that tournament's five matches. His good MLS and Confederations Cup play drew attention from European clubs, and earlier this year he transferred to Eintracht Frankfurt in the German Bundesliga. No, Frankfurt is not the best team in the league, but the fact that Clark earned the move must mean something. It is also good for the development of the player, and for the profile of U.S. soccer abroad. Clark hasn't made many appearances yet for Frankfurt, but it is important to remember that he was coming off of injury at World Cup time, which brings me to my next point…
He Was Coming Off of Injury: Almost immediately after arriving in Germany, Clark suffered an injury. His injury woes kept him out for about a month, and I believe that fitness concerns were a huge reason why he didn't really appear or do anything for Frankfurt. Coming into the World Cup, he was coming back from injury issues, and the lack of first-team appearances in Germany meant that his fitness was probably not up to speed. This was a problem with other players in the cup- Fernando Torres of Spain had been coming off of injury and played poorly, and the US' own Oguchi Onyewu had also suffered injury problems before the Cup, and this was evident in much of his play as well.
There Were Eleven Players On the Pitch: This is an important point to remember. Clark was not the only player to pull on a USA shirt during the fateful Ghana game. Further, Clark's poor performance only meant he was on the pitch for 31 minutes before being taken off for Maurice Edu- that means that the US team played 59 (not counting added time) minutes of soccer without Clark on the pitch, and the deciding goal of that game was scored long after Clark had left the field. 59 minutes is more than enough time to come back and win, which the United States has proved in many games.
The Real Scapegoats Should Be the Strikeforce: Seriously, why hasn't there been more criticism of the USA's goalscorers? First of all, Charlie Davies was injured and unavailable for the Cup, and this was a huge blow to the team's chances. Had Davies been around, who knows what would have happened- but he wasn't, and the US definitely lacks depth in the striker position. Jozy Altidore played well, but he's still young and that showed. Many of the chances he didn't convert may have easily been converted by a more experienced player. Robbie Findley showed good work rate, but little else, as he was unable to score. In other games, Herculez Gomez also failed to do much more than run around and look like he was up for the game. The key goalscorers of the team, Landon Donovan and Clint Dempsey, failed to break through in the Ghana game and Dempsey had largely been shut down during most of the Cup (not to mention at least one disallowed goal that he should have scored). Sure, Donovan did score in the Ghana match, but that was a penalty. The strike force, in my opinion, is the real reason why the United States failed and, honestly, they should have been better even in the Group Stages.

So that's much of my reasoning- Ricardo Clark is wrongfully the scapegoat of the US' World Cup Round of 16 exit to Ghana. Again, I do not think Clark performed well, and I'm not even sure he should have started. Still, though, when people told me that it was his fault we lost, I get a little bit annoyed. Further, while I said the strikeforce should be the scapegoats, I don't believe in scapegoating, especially with an up-and-coming team like the USA. We should all be proud of our team, and we should all be very pleased with the positives coming out of the World Cup. If you want to blame Ricardo Clark for the failures of the Cup run, I sincerely believe your opinions should be reevaluated.

What do you think???
Subscribe

USA World Cup Team Blog RSS Feed

Share
blog comments powered by Disqus